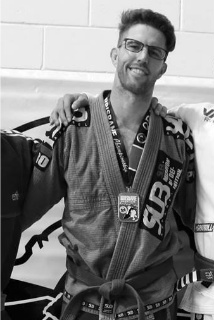 About Benicio Murray
Position at SASSOM MMA:
Fundamentals BJJ Coach
Biography:
Married with two cats and an insatiable urge for travel and adventure. He has been a jack of all trades, finally learning to master some. He moved around every two years growing up in an army family, changing schools and countries often. He worked in a variety of different industries from Army reservist to fine dining catering for some of the biggest political and business leaders in Australia to finally settling on a trade in the communications industry. He works to finance his ever growing list of passions and wouldnt have it any other way.
Passion:
Travel and adventure, photography, documentary, fitness and great coffee
Favorite Quote:
There's no losing, only Learning.
Don't believe everything you think.
Brazilian Jiu Jitsu
Year Commenced BJJ: 2007
Current Rank: Brown Belt
First - Current BJJ Instructor: Darren McKean, Marcus Collings
Describe Your BJJ Game: Gentleman-Jiu-Jitsu. I play a more 'catch' style of BJJ, pressuring the opponent with constant threats to force a mistake then capitalising.
Best Competition Result: Gold, Purple Belt Masters Division
Competition Results
Training Rate
Benicio Murray is available for private training sessions for the following rates:
Per Session Price

$

10 Pack Price

$
Get in Touch with Benicio Murray